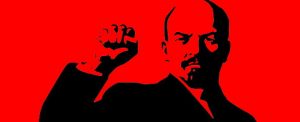 Previous | 1 | 2 |  3 |  4 | 5 | 6 | 7 | 8 | 9 | Page 10 | 11 | 12 | 13 | next page
The Leninist no.91
Published June 8 1990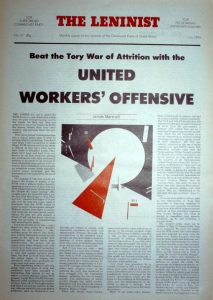 They've got thugs in blue! We need Workers' Defence Corps! National Committee, CPGB (The Leninist)
Editorial
Letters (Police Split; Miners; Progressive Bureaucracy?)
Forging the weapon Alan Merrik
IN STRUGGLE
RIP, NCP Ian Mahoney
'Discussion document'
Our history
Reviews (Cultural Revolution; Collaboration)
Hands Off Ireland! takes to the streets Sian Bond
May Day: workers' day Gavin Kyle
The Leninist no.92
Published June 28 1990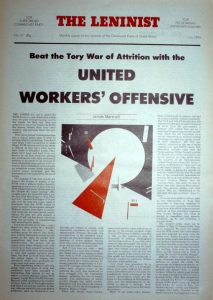 'Guilty' or 'innocent' Now free all Irish political prisoners Sean Quinn
Editorial
Letters (Poll Tax; Just Deserts?; Bureaucracy; CPUSA)
Marching against the tax Stan Kelsey
IN STRUGGLE
The Summer Offensive and the fight for communist morality Ian Mahoney
Our history
Reviews (Keep it…; Connolly's Shoulders)
The Gorbachev solution: disintegration, crisis and counterrevolution Alan Merrik
The Leninist no.93
Published August 3 1990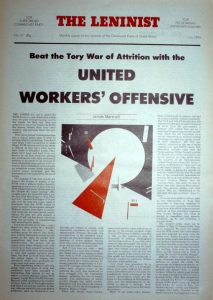 Euros call cops National Committee, CPGB (The Leninist)
7th Summer Offensive triumph Ian Farrell
Editorial
Letters (NCP Desertion?; USSR; Trotskyism; POW; Poll Tax)
The corpse stirs Sean Quinn
IN STRUGGLE
Crossing the Rubicon: the British left and Eastern Europe Ian Mahoney
Soviet miners and the left Alan Merrik
Our history
Reviews (No excuses; Bleeding Hearts)
Gorbachev: Kerensky in reverse Alan Merrik
Nation and class in the British Isles (Supplement) Jack Conrad
The Leninist no.94
Published August 31 1990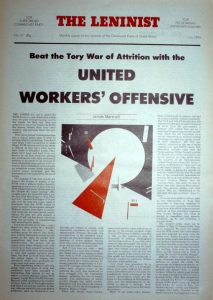 Only revolution will bring peace Iraq/Britain: The main enemy is at home David Sherriff
Editorial
Letters (Tooting Poll Tax; National Question; NCP Debate; USSR again)
Goodbye to all that Sean Quinn
IN STRUGGLE
South Africa: negotiation or revolution Stephen Ovalson
From the flames of revolution (Interview) David Kitson
Our history
Reviews (Gulf War; 30s Classic)
A February or a Kronstadt? Ian Mahoney
Which Road? [Part 7] (Supplement) Jack Conrad
Communists say: Break with 'Militant' Labourism! For indefinite general strike to smash the Tories and their tax! (Leaflet) National Committee, CPGB (The Leninist)
The Leninist no.95
Published October 5 1990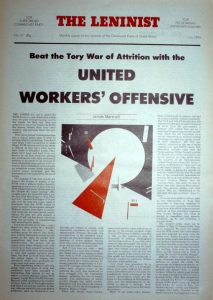 Peace though revolution David Sherriff
Editorial
Letters (NCP … again; Sparts and the gulf; RCG and the Gulf; Tax raids; Cul-de-sac)
Fight yellow unionism everywhere! (Interview) Paul Whetton
IN STRUGGLE
Once more unto the breach… Alan Merrik
Iraq: history, economy and class Mary Goodwin
Statement National Committee, CPGB (The Leninist)
Our history
Reviews (Local heroes; Cowardice and dishonesty)
Socialist Organiser: The final cut? Boris Kaplan
The Leninist no.96
Due to a numbering cockup, there was never an issue 96
The Leninist no.97
Published December 6 1990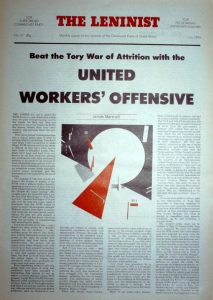 Fifth Conference of the Leninists: Declaration to the Working Class of Great Britain (Available in text format here as part of our 'Reforging the CPGB' series)
Editorial
Letters (United we fall; Poll tax; Iraq; Dual)
Theatre as a weapon Tom Cormack
Fight censorship
IN STRUGGLE
Bypassing capitalism: separating the wheat from the chaff Michael Waters
Debating the Gulf Sean Quinn
Our history
Reviews (Working Class Hero; 1919 and all that)
Make revolution, not reactionary war David Sherriff
Taking up the banner (Supplement) John Bridge
HANDS OFF IRELAND! No.5 (Insert)
The Leninist no.98
Published December 21 1990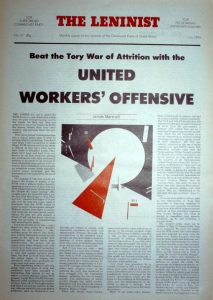 Class action to stop the war
Editorial
Letters (CPT; IRSP; Irish Marxist; Communist Labour Party; Rahe Kargar; HOI!; WTM)
Marking Time Ian Mahoney
IN STRUGGLE
We stand to see them fall Hannah Leigh
Our history
Reviews (Tables; Good Start)
Twin track to the grave Jack Conrad
The Leninist no.99
Published January 15 1991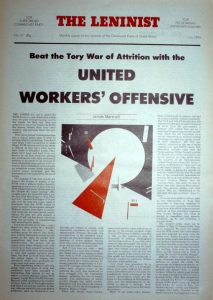 Non-stop picket
Communist Unity
Editorial
Letters (Workers' defence; Gulf; RCG)
Page 3 on Ireland is missing from our archive
Pages 4, 5 and 6 are missing from our archive
Reviews (Union Blues; Lynch Law)
Hail the workers of Turkey Alan Merrik
Turkish militants under attack
The Leninist no.100
Published January 30 1991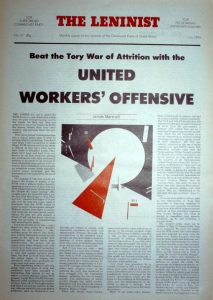 100 Provisional Central Committee, CPGB (Available in text format here as part of our 'Reforging the CPGB' series)
Editorial
Letters (Communist Party of Turkey; The Irish Marxist; Rahe Kargar; Communist Labour Party; Ageism?; Semi-colony?)
Shotgun Wedding? Michael Waters
IN STRUGGLE
The Gulf War: and how to stop it Jack Conrad
Our history
Reviews (SWP Gulf; Heavy stuff)
Non-Stop Picket against the war!
Previous | 1 | 2 |  3 |  4 | 5 | 6 | 7 | 8 | 9 | Page 10 | 11 | 12 | 13 | next page