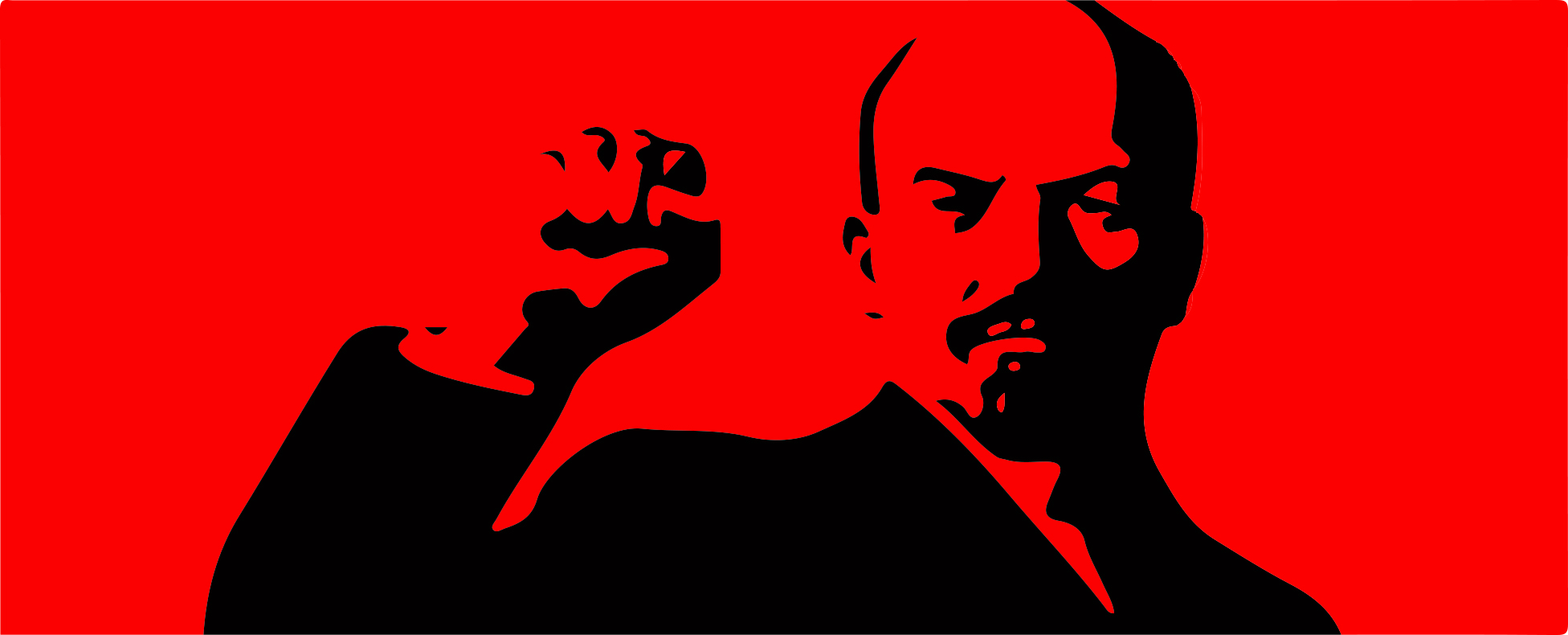 The Leninist was a factional publication in the 'official' Communist Party of Great Britain, published from 1981 until 1992, and the predecessor both to today's CPGB and the Weekly Worker (https://weeklyworker.co.uk). Its purpose was to carry on an open polemical struggle against the opportunists who ultimately liquidated the official party, and reforge the CPGB as a principled Marxist organisation.
The politics of our organisation have evolved considerably since 1981, but were formed by the struggles of that decade. We re-publish the full run of The Leninist below – warts and all – as a historical record of those times, and our role in them.
A brief history of The Leninist can be found in 'Before this, there was that', by the journal's co-founder Jack Conrad.
A copy of The Leninist archive is also available on the Marxist Internet Archive
Also available on the archive
Subject index (coming soon)
leaflet and insert index (coming soon)

The Leninist no.1
Published in Winter 1981/2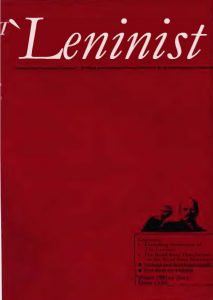 Founding Statement of The Leninist – The Communist Party, the crisis and its crisis (Available in text format here as part of our 'Reforging the CPGB' series)
The Road from Thatcherism, or the road from Marxism? Frank Grafton
Ireland and the Opportunists James Marshall
What's happening in Poland Gus Hall
The Leninist no.2
Published in Spring 1982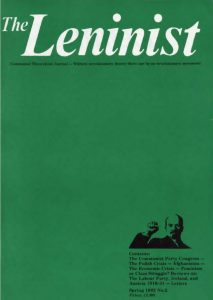 After the Congress (Editorial)
The Polish Crisis, The Role of Imperialism, and the Fight for Proletarian Internationalism James Marshall
The Paradox of Afghanistan James Marshall
The Economic Crisis and its Political Effects in Britain [Part 1] Frank Grafton

Liberation and the Class Struggle: The Real Link for Women Liz Calvert
Reviews (The Labour Party A Force for Revolution or Reaction?; The Irish Working Class: Past and Future; Austrian Lessons)
Letters (Leninist Inspiration; Women's Oppression; Fighting Revisionism; Supporting Irish Liberation)
The Leninist no.3
Published September 1982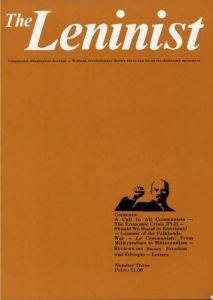 A Call to All Communists The Editor
The Economic Crisis and its Political Effects in Britain [Part 2] Frank Grafton
Should We Stand in Elections? James Marshall
Lessons of the Falklands War Bill Cobban
From Millerandism to Mitterandism Le Communiste (with an introduction by Michael McGeehan)
Reviews (Women's Freedom and Sweet Revolution; Whose Revolution in Ethiopia?)
Letters (French Letter; John's Collective; [unnamed letter]; 'Party' Games; Spart Out)
The Leninist no.4
Published April 1983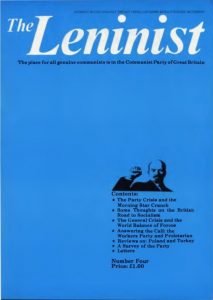 The Party Crisis and the 'Morning Star' Crunch The Editor
Some Thoughts on the British Road to Socialism James Marshall
The General Crisis and the World Balance of Forces Frank Grafton
Answering the Call Proletarian; Royston Bull, The Workers Party
Reviews (Revolution in Turkey; Poland: After the Brink)
A Survey of the Party The Leninist supporters, London District Congress [The first page of this article is missing from the archive]
YCL Congress Thomas Wright, The Leninist YCL Group
YCL in Danger? The Leninist YCL Group
Letters (An open letter to Bill Dunn from John Chamberlin; PCP Harmony; Fighting for the Line; Labour Disgust; Sincere Colleagues)
The Leninist no.5
Published August 1983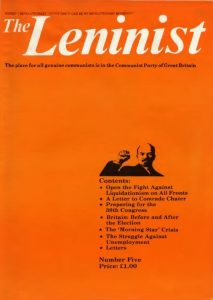 Open the Fight Against Liquidationism on All Fronts The Editor

[Appendix I] Letter to Comrade Chater James Marshall, for The Leninist
[Appendix II] Preparing for Congress (Statement) The Leninist

Britain: Before and After the Election James Marshall
The Crisis of the 'Morning Star' and the Communist Party Frank Grafton
The Struggle Against Unemployment (Review) Michael McGeehan
Letters (Colin Roach; The Tower Hamlets Party; YCL 1; YCL 2; Edinburgh Review; Hackney and the Election; A Straight Perhaps?)
The Leninist no.6
Published January  1984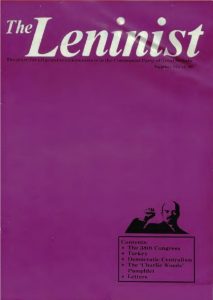 The Fight for the Party has Only Just Begun The Editor
The Crisis of Capitalism in Turkey and the Differences in the Communist Party William Hughes

[Appendix I] The Fourth Programme Is the Start of a Victorious Future R. Yürükoğlu
[Appendix II] The People of Turkey Deserve Democracy R. Yürükoğlu

On Democratic Centralism Rebecca Sachs
The 'Charlie Woods' pamphlet and the Hypocrisy of Straight Leftism James Marshall
Letters (Channel Four; Women's Conference; 'Straight Left' danger; Delegation on Ireland; Now for the remedy; Glen Again)
The Leninist no.7
Published April 1984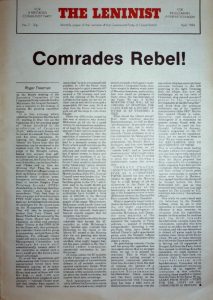 Comrades Rebel! Roger Freeman

'The Leninist' goes monthly! The Editor
Letters (Open Letter to 'Straight Left'; Grist to the Mills; )
Leninists in Conference Richard Hardy (Available in text format here as part of our 'Reforging the CPGB' series)
A Tale of Three Funds William Hughes
REFORGE OUR PARTY James Marshall
The Flaw in the Jewel Michael McGeehan
Reviews ("Questro" and the Crisis of Straight Leftism; Workers' Self Defence; Women Take Sides)
Pacifism or Revolution Frank Grafton
The Leninist no.8
Published May 1984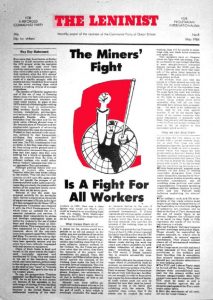 The Miners' Fight Is A Fight For All Workers (Statement)
Our Method and Aim The Editor
Letters (Congratulations; Marxist Contemplation; Hackney Chaterites; What is 'The Leninist'?; lenin and Israel)
The Miners and the Three Cardinal Sins of Opportunism James Marshall
Hot up the Rebellion in the CPGB Roger Freeman
WORKERS' MILITIAS (Supplement) Richard Hardy
The YCL: the failure of Eurocommunism Rebecca Sachs

Comradely exchange Le Barricade

Grenada: A Revolution on Trial Michael McGeehan
Reviews (The Poverty of the 'New' Communist Party; The Roots of Liquidationism)
For a Genuine Communist Paper Frank Grafton
The Leninist no.9
Published June 1984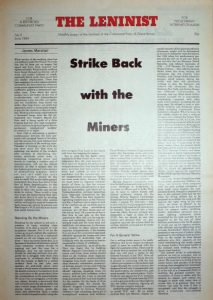 Strike Back with the Miners James Marshall
The PPPS AGM – How to Vote The Editor
Letters (Ireland and Ward; Centrist Bankruptcy; RCG; Bettaney)
A Crisis of Leadership Roger Freeman (An excerpt is available in text format here as part of our 'Reforging the CPGB' series)
The backward March of Eurocommunism Michael McGeehan
Past Possibilities and Future Prospects (Supplement) James Marshall
Open Ideological Discussion Richard Hardy
EEC Elections (Statement)
Bowing to Anti-imperialist Spontaneity (Review) Frank Grafton
What Should be the Role of the 'Morning Star'? Frank Grafton
The Leninist no.10
Published July 1984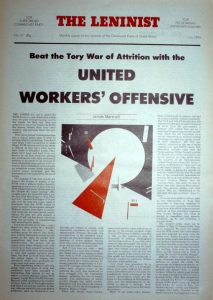 Beat the Tory War of Attrition with the UNITED WORKERS' OFFENSIVE James Marshall
Polish Coal The Editor
Letters (Trotskyism; I Chose the CPGB)
The Mines – 'Our' Industry? Frank Grafton
Bettaney: The More the Better William Hughes
Merseyside CP – Less militant than Militant Tony Coughlin
1939 – a critique  (Supplement) Richard Hardy
TURKEY SOLIDARITY Chris Stevenson
The Revolutionary Communist Party – Prepared to Defend Workers' Power? James Marshall
(Page 11 – which contained 3 reviews – is missing from the archive)
The Morning Star – Break the Stalemate Frank Grafton
Page 1 | 2 | 3 | 4 | 5 | 6 | 7 | 8 | 9 | 10 | 11 | 12 | 13 | Next page